Project and task management
With Taskomat™ you can manage your workflow in a simple, fast and integrated way. Taskomat™ allows you to easily manage your projects and tasks, but more importantly it allows you to make ROI management on your projects and your days. See in detail:

Project management
Taskomat™ allows you to easily manage your projects from every point of view: you can check the schedule of your tasks, verify which work units have been delivered, which ones still have to be started and which ones are on going. Moreover Taskomat™ allows you to set a specific deadline for each work unit, so you can set the project in successive deliverables simply by creating the right work units. Finally, Taskomat™ allows you to analyze the remaining budget and time, which is why we talk about ROI management rather than project management.

---
Task management
On the Taskomat™ dashboard there is a task management panel that allows you to have a complete view of all the tasks you have created and their status: scheduled tasks, delayed tasks, pending tasks, tasks to be scheduled and tasks to be linked. In this way you can easily manage the tasks that you leave behind in the schedule, the tasks that are late on the deadline, the newly created tasks that you still need to schedule and those ones created directly on the planner that still need to be properly accounted for.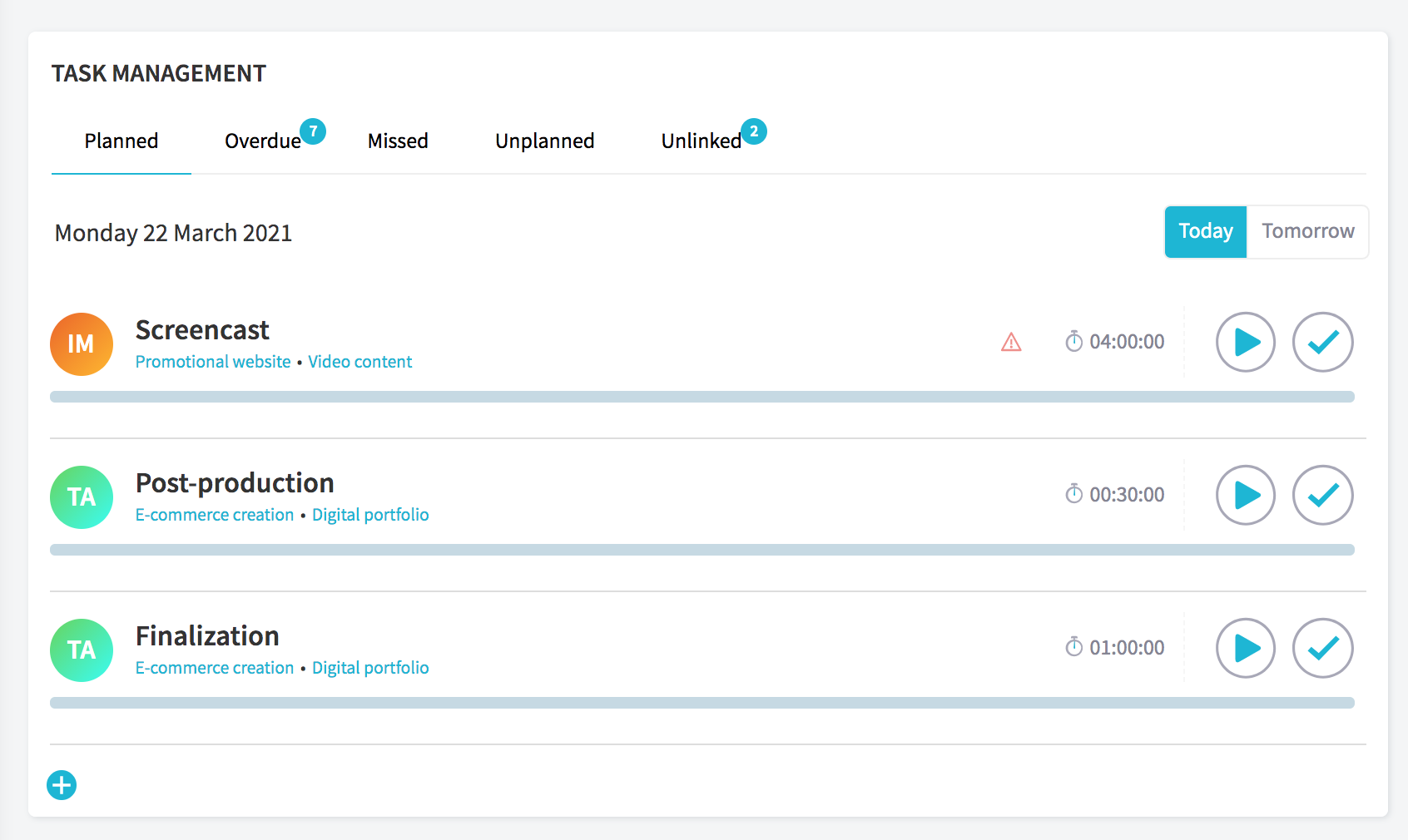 ---
Workflow management
With Taskomat™ it is easy to have an overview of your workflow: in the workflow you can control the progress of each work unit: the work units are organized in a kanban board according to their status: new, to be planned, planned, in progress and completed. When a work unit is completed, it is possible to archive it so as not to overload the workflow. Besides, from the workflow it is very easy to create new tasks and schedule them.
---
Time estimates and analysis
On Taskomat™ you can create both tasks with a time estimate and tasks without a time estimate. In this way you have complete operational flexibility and at the same time a very powerful analysis tool. When you create tasks with an estimate, Taskomat™ will calculate for you several KPIs that you can use to improve your work, for example: effectiveness, efficiency, real rate. Estimating the duration of your tasks is a habit that increases our productivity, but with Taskomat™ you can also create tasks without estimation and do normal time tracking.