Manage your ROI, not your projects.
With Taskomat™ you can manage all your workflow in a single place and - most of all - you can grow your time's ROI.
Manage your ROI, not your projects.
With Taskomat™ you can manage all your workflow in a single place and - most of all - you can grow your time's ROI.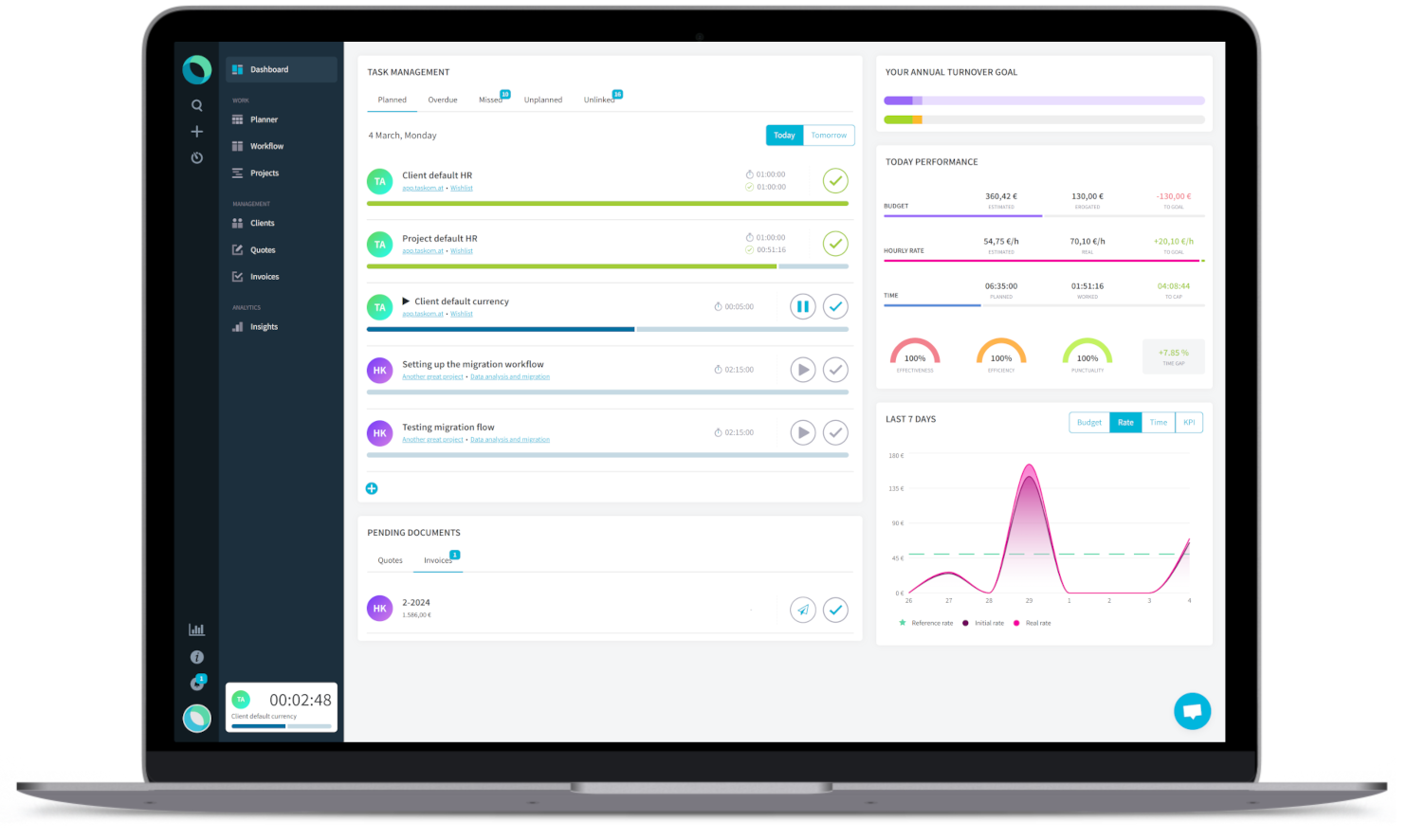 Featured in:


Productivity & business intelligence made easy

With Taskomat™ you have everything you need to manage your work in one place.
No more wasting time on different platforms that don't give you real value.

ROI management, not project management.
Taskomat™ is not a project management tool, it is an ROI management platform.
Set your revenue goals and reach them by optimizing your work processes.
Start for free
The best software for freelancers and entrepreneurs
If you want to thrive as a professional, you won't just need a billing tool.
Just as you won't need a generic project management tool.
If you want to thrive as a professional, you simply need Taskomat™.
Rated among the top software on Capterra and GetApp
Remo Romano
Taskomat turned out to be a turning point in the organization of my work. Being able to use a single tool for organizing the flow of projects and for monitoring times and budgets has allowed me to be more efficient and to improve in the quotation of works, finally managing to have a complete picture of the progress of all phases of projects.
Web Designer
remoromano.it
Federico Chigbuh Gasparini
I am amazed at how I overestimated some activities while underestimated others, but now that I have the habit of tracking my performance with Taskomat, I am able to better organize my working days by increasing my productivity.
Business Consultant
federicochigbuhgasparini.wordpress.com
Simone Sanvito
Since using Taskomat, in 6 months I have invoiced what I usually invoiced in a year.
Web Developer
Marco Spinelli
Taskomat has become indispensable for my work as an architect. I manage invoices, quotes and workflows in an optimal way, making full use of the time I have available without taking it away from mine I recommend it to all professionals like me
Architect
hv8.it
Vincenzo Stira
Thanks to taskomat I am able to have all the possible metrics under control in a single platform in order to better manage my work as an iOS freelancer. And there is no lack of automatic invoicing or the ability to create quotes based on the excellent planning tool! Once you become familiar with the numerous features you will hardly need to look for other software to manage your work!
iOS developer
www.viointeractive.com
Chiara Buratti
Taskomat helps me understand how much a project actually takes up my time, a fundamental aspect for the work of a freelancer. Thank you guys!
Copywriter
www.chiaraburatti.com
Riccardo Marin
Since Taskomat arrived, my business management times have drastically reduced, reaching previously unthinkable levels of efficiency.
Web Developer
riccardomar.in
Giuseppe Amorisco
Taskomat changed my working life. I can visualize my performance and the achievement of my financial goals in a simple and intuitive way!
Marketer
www.giuseppeamorisco.com
HarviUp
Taskomat is the toughest of the drill sergeants.
Taskomat is the toughest of the coaches.
Taskomat is a tool that pushes you to improve your performance.
In fact, always having your numbers under your eyes and seeing how far you are from your annual economic goal (financial goal) forces you to work hard.
And since only hard work leads to success, the best way to trigger a change in your lazy habits is to set yourself an ambitious but realistic goal.
Then one step at a time, thanks also to Taskomat which reminds you every day what you have to do, you get closer to the goal.
Business Designer
harviup.com
We help freelancers of any industry
It doesn't matter if you're an architect, developer or video maker.
Taskomat™ perfectly fits the workflow of any freelancer.
Start doing ROI management today!
Taskomat™ allows you to level up your work organization.
Now it's easy to understand the profitability of every single project and every single day of work.
Start for free